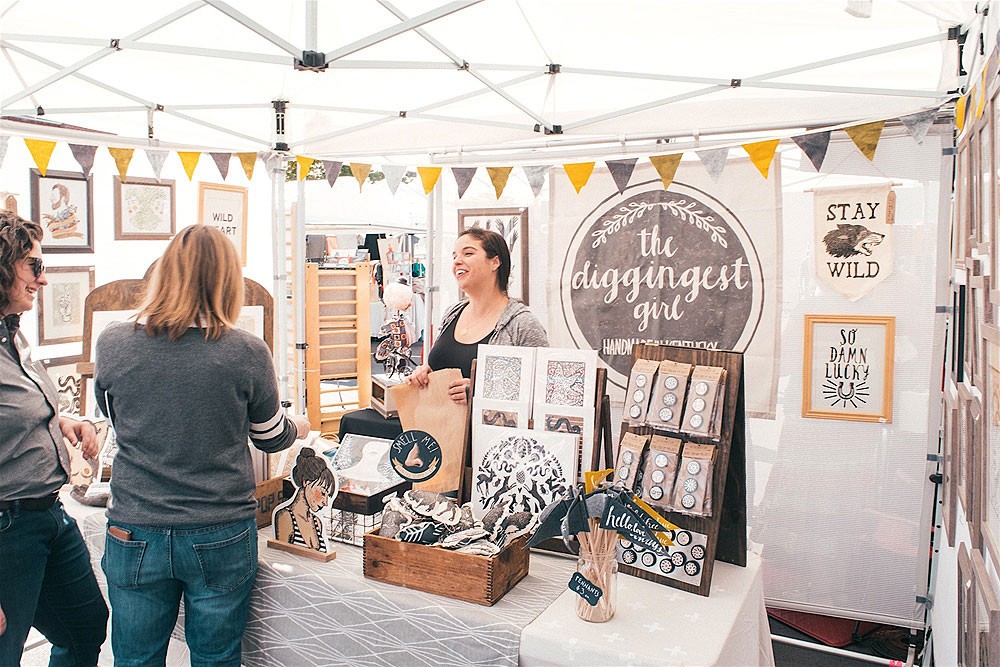 Here are our top picks for Charleston area holiday markets. Let us know if you attend one of these great events!

Cigar Bazaar
Sat. Dec. 2
11 a.m.-4 p.m.
The Cigar Factory
701 East Bay St.
Come for: one-of-a-kind wreath-making.
Stay for: a drink (or two) from Merc & Mash.
Vendors and their goods: prints from Sam Sidney; turkish towels, enamel pins, pouches, and more from Charleston Weekender; kickass vintage clothes from Runaround Sue Vintage Boutique; reclaimed wood tables from Landrum Tables; knives from Middleton Made Knives; women's clothing from Coral Anchor Boutique; and handcrafted gold and silver jewelry from Christina Jervey Jewelry.
Carnes Crossroads Holiday Market
Sat. Dec. 9
12-5 p.m.
Green Barn at Carnes Crossroads
513 Wodin Place
carnescharleston.com
Come for: an appearance from Santa, duh.
Stay for: holiday music (which helps the gift-buying process, we promise).
Vendors and their goods: custom jewelry from JK Designs; books from Usborne Books & More; soaps, soy candles, and crochet bath items from Lunar Earth Collective; handcrafted wooden items from Swamp Wood; handlettered home decor from Charlie Pea Designs; and quilts from Windy's Whimsicals.
Johns Island Homegrown Holiday Bazaar
Sat. Dec. 2
10 a.m.-4 p.m.
Johns Island County Park
2662 Mullet Hall Road
johnsislandfarmersmarket.com
Come for: the pony rides.
Stay for: visits with Santa — set to live music from the V-Tones and members of Sol Driven Train.
Vendors and their goods: holistic pet care from All is Well; boutique baby wear from Tweedle Beedle; blended herbs and spices from Charleston Spice Company; bowls and candle holders from Cooper River Ceramic; charms, lockets, and bracelets from Origami Owl; and ornaments from Mauswares.
Still not enough? Here are some more pop-ups and markets around town.
Christmas Charity Boutique, Dec. 1-3, times vary, St. Matthew's Lutheran Church, 405 King St.
Cone10 Holiday Party, Fri. Dec. 1, 5:30-8:30 p.m., Cone10 Studios, 1080-B Morrison Drive.
Holiday Market, Fri. Dec. 1, 5-8 p.m., Miller Gallery, 149 1/2 East Bay St.
Local Purveyors Pop-Up, Fri. Dec. 1 & 15, 4-6 p.m., King Charles Inn, 237 Meeting St.
Holiday Festival on Daniel Island, Sat. Dec. 2, 11 a.m.-4 p.m., Volvo Car Stadium, 161 Seven Farms Drive.
Charleston Farmers Market: Holiday Market, Saturdays and Sundays, 9 a.m.-3 p.m., Marion Square.
Shadowmoss Market, Sat. Dec. 2, 10 a.m.-2:30 p.m., Shadowmoss Golf Club, 20 Dunvegan Drive.
Cannonborough/Elliotborough Holiday Sip & Stroll, Fri. Dec. 8, 5-8 p.m., Cannonborough neighborhood.